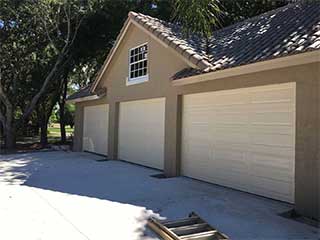 Some garage door related problems can be inevitable, as it is the nature of any system that works under considerable tension to experience some wear and tear over time. However, if you make sure your door receives proper maintenance on a regular basis, you'll be able to keep using it for longer than you may expect.
The Springs Demand Attention
As the hardest working parts of the entire system, the springs must be maintained regularly to keep them from overstraining and breaking unexpectedly. These components are extremely dangerous, as they store a lot of tension in their coils. Our technicians will test them and adjust their tension to keep them in peak condition. We'll also lubricate them to make sure they're able to work more efficiently. If we determine their condition to be less than ideal, we'll replace them on the spot, thus mitigating the dangers posed by a broken spring.
Don't Neglect The Opener
While the springs are the parts that perform the heavy lifting, the opener is the motor that provides them with the horsepower required to start moving the door. This device contains both mechanical and electrical components, and therefore can be susceptible to a wider variety of issues. Our team will inspect its motor gear and circuit board to make sure that they are fully functional, and we'll also test the safety sensors that are in charge of detecting an obstacle. If the sensor alignment is not exact, count on us to reposition both of them accordingly and to make sure that your safety isn't compromised.
A Complete Checkup
Every single one of the system's different hardware parts will be thoroughly inspected and applied with the appropriate tweak that will make its performance as efficient as possible. We'll lubricate the rollers, clean the tracks and make sure they're properly aligned and aren't developing any bending. We'll also check the panels and repair any minor cracks or dents we discover so that the curb appeal of your door will be preserved.
Let Us Handle It
Don't start stressing over all the different problems that may or may not inflict your door. Give our experts at Garage Door Repair Katy a call and we'll make sure that all the risks are absolutely minimized.
We also offer the following:
Garage Door Off Track Repair
Garage Door Safety Inspections
Emergency Broken Spring Replacement
LiftMaster Garage Door Opener Repairs