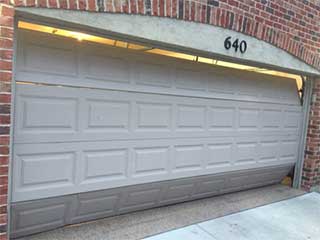 This type of malfunction can happen for a variety of reasons. When it does happen your first priority should be to keep yourself and your family clear of the door until the situation is resolved. While you may not necessarily recognize all of the warning signs in time, it's not a bad idea to understand the main causes of this type of problem so that you can take some preventative measures and keep your family safe.
So Why Does It Happen?
One of the most obvious reasons your garage door may be about to get off track is excessive grinding noises that accompany its movement. This could indicate that there are some dents or bending in the tracks themselves, which could cause the rollers to get stuck. Even ostensibly minor misshapen spots that can seem insignificant can lead to dangerous results. Another potential cause for concern is misaligned tracks. If their fasteners loosen and they begin to slightly lose their alignment, the door's movement will be affected, and the rollers could end up slipping out.
What Should I do?
The very first thing you should do when your garage door gets off track is… nothing. By which we mean, you need to avoid from trying to lift it by yourself or to try getting the opener to keep moving it. Your door is extremely heavy and one false move can result in further damage or even personal injury. Make sure every one of your family members stays clear of the door and give our professional technicians a call. The risks involved in getting your door back on track, figuratively and literally, are far too dangerous.
Prevention Is Better Than Cure
The best way to avoid this type of malfunction is to make sure your door, its rollers and its tracks are all properly maintained on a regular basis. You should probably perform a visual inspection of these components several times a year to make sure they're in a good condition. The tracks should also be cleaned regularly to keep debris from creating blockages inside them, and the rollers – if they aren't nylon coated – should be lubricated to keep their movement smooth. Remember to pay attention to any strange noises your garage door makes while it's in motion. If you suspect something is wrong, it's always a good idea to have a specialists take a look. Our team at Garage Door Repair Katy will be more than happy to help.