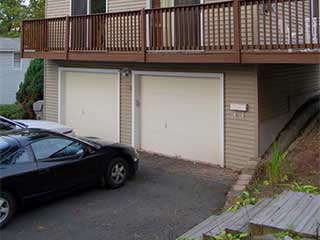 Our houses are our sanctuaries so it stands to reason that we take home security very seriously. As the largest entry point to your house, your garage door should be at the top of the list when it comes to ensuring proper home security. There are a number of points we should pay close attention to so that our family, our homes and our belongings stay safe and secure.
Remove The Temptation
It's quite common to use your garage for more than just a place to park your car. There are many items that don't seem to have a place anywhere else in your house but somehow find a comfortable spot inside your garage. All sorts of tools, clothes and electronic equipment may come to slowly populate this space, and any potential burglar that catches a glimpse inside the garage may be tempted to see what they can find. That's why not letting the door hang open is so important. If your garage has a window, you should install frosted glass on top or instead of it, to prevent people from peeking inside.
How Strong Is Your Garage Door?
We have so many choices available to us for practically everything we decide to purchase. This also applies to garage doors. These systems come in a range of colors, designs, and materials. There is a garage door for virtually every budget. Unfortunately, the cheaper you go, the more flimsy the materials used. This could compromise the security of your door and make it easier for thieves to break in. Steel may be more expensive than aluminum, but that little extra you spend today, could save you a lot of grief tomorrow.
A Little Extra Steps Go A Long Way
You've chosen a nice sturdy door and you make sure the interior space is not exposed. Is that enough to ensure your garage is secure? It's a good start, but you can always take additional security measures to keep your home safe. Always make sure all of your garage door remotes are accounted for and never leave them unattended in your car. If your opener is still set to factory default settings, reset the code to something less obvious. When travelling away from home for any period of time, make sure you disconnect your opener from the electrical socket. This will prevent it from being exploited by thieves.