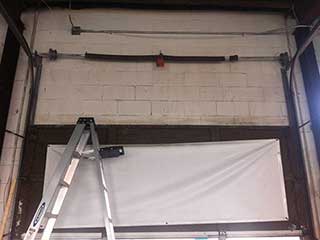 If you want to be able to count on your garage door to open and close easily when you need it, make sure the springs are in the best shape possible. The garage door springs are what lifts it, essentially acting as the muscle due to the door being rather heavy. Without the springs, it would be much harder to get your door to move at all! Their importance is also why it's vital that they're tended to by the experts. DIY by anyone inexperienced can not only cause your door to malfunction further, but it's dangerous too! The springs themselves can harm you if you're not careful, as can the door if it winds up falling down in the process. The safest, and really the easiest, option is to let us take care of everything.
Are There Different Kinds Of Springs?
Yes, there are two different types! Extension springs create and store the energy that's needed to lift the door by being stretched out tightly. The tension that's made from it is what translates to energy. Torsion springs instead twist up to do this. While they both achieve the same goal, and we can take care of either, extension springs are more likely to break due to wearing down faster. This is why getting them tended to more frequently is ideal, as well as safer thanks to their tendency to snap when they break and ricochet.
We Can Handle Everything They Need
Rather than deal with your door struggling to work properly, just let us take a look! Sometimes it may just be that the springs have gotten tweaked over time and need to be adjusted back into their proper place. However, even if the spring does need to be replaced entirely, we'll get it done quickly so your door will be in working order again right away and you won't be stuck waiting for long!
Discover More About Us
Call Garage Door Repair Katy now and let us get your door like new again!
But wait, there's more! We also offer:
Part Replacement & Lubrication
Broken Garage Door Track Repair
Genie Garage Door Opener Services
Broken Spring Replacement & Repair